Enterprise WVPN
Wireless VPN (Wireless Virtual Private Network) is a secure 4G / HSDPA service targeting enterprises.

It uses standard IPSEC/MPLS network safety protocols to establish a exclusive WVPN network between the enterprise account and FET. It connects mobile workers and FET offices, providing a secure and reliable wireless network service. The user does not need install other soft wares nor set complicated settings. It is convenient and simple.

With WVPN, mobile workers can use various end devices to securely connect to the company's internal information system via the exclusive enterprise WVPN channel anytime and anywhere to undergo various tasks.
Service Architecture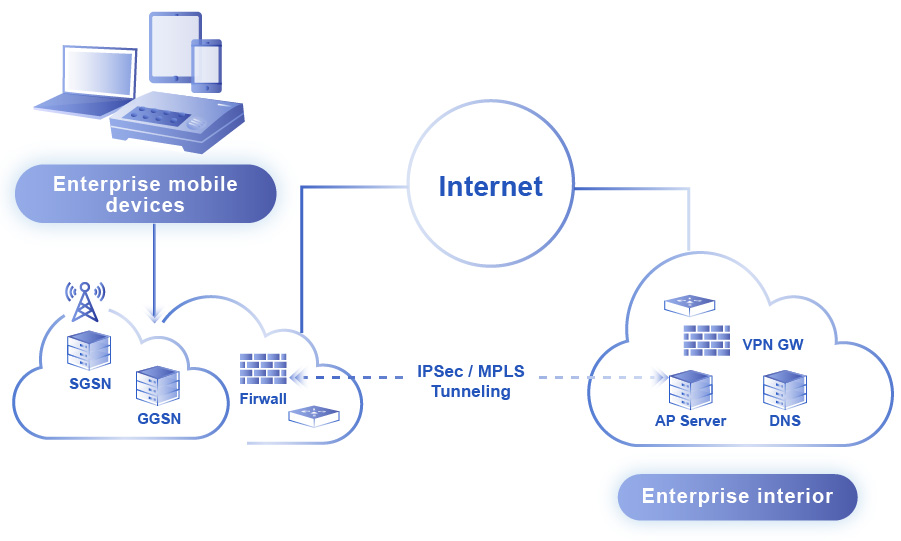 Service Features
Secure and reliable
Enterprise client exclusive VPN network, all data are encrypted/decrypted via IPSEC/MPLS, secure and reliable.
Very easy to use
No complicated settings, simple controls, just like going online.
Convenient management
Exclusive APN to connect directly to the enterprise's internal network. Customizable based on the network management requirements of the enterprise, specify specific network segments, and allocate dynamic or fixed IP.
Anytime, anywhere, as one pleases
With FET's 4G coverage in Taiwan and international roaming services, remotely process company data and respond emails to greatly enhance employee productivity anywhere and anytime.
Security Mechanism
Provide client exclusive APN (Access Point Name)
- Client can choose a name, but cannot be the same as an existing APN. Letters and numbers can be used, the first character cannot be a number.
Utilize IPSEC technology to establish Site-to-Site VPN environment
- Ensures data confidentiality
- Prevents others from "eavesdropping" on the contents
- Ensures that the transmitted contents are not changed or damaged. Upholds data integrity
- Data source authentication, ensures data is not forged from third parties in the public network
- "Access Control List" mechanism
Able to limit data source/destination IP address to allow clients to easily monitor their data
- Specific IP addresses can also be issued to each mobile number.
Provides network monitoring mechanism: network and tunnel monitoring
Able to use client applications for account/password/domain control