FET Cloud Service-lasS is a large-scale data storage center constructed by FET. With using virtual computing technology, the virtual computing environment similar to the real-world environment can allow the enterprise clients to operate multisystem applications (Window and Linux). It's presented like a local connection that allows enterprise clients to deploy their software and applications as needed, thus the enterprise clients can use a reliable environment brought by the cloud service that is based in system security.

FET brings the powerful Infrastructure as a Service(IaaS)to satisfy enterprise clients' requirements on cloud computing. By investing to the focuses of the self-cloud equipment room maintenance and management, power facility, network security and information security, the cloud computing service launched with three types, economic type, advanced type and professional type to satisfy enterprises' consideration of computing resources and create you data backup and testing service environment or applications of multi-media webpage servers, thus to construct your own cloud computing service.
Service Structure
FET Cloud Computing Service adopts the virtual technology to divide and utilize the hardware resources (CPU, memories and hard drives), also with the deployment of FET cloud management software, monitoring and loading management, the enterprises will be provided with the best cloud computing hosting service.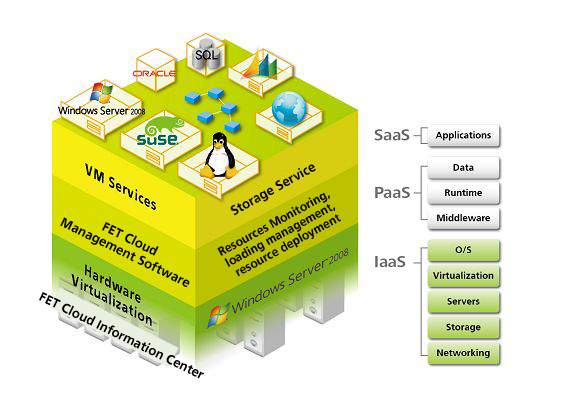 Service Benefits
System Aspect
By using FET Cloud Computing service, enterprises can focus on business related core operation without worrying system compatibility and the problems of expansion. Along with the growth of business, the expansion can be made rapidly and with flexibly, thus the implementation in the enterprise can be accelerated to satisfy enterprise with operational cost reduction and the dual requirement of enhancing system efficacy with flexibility. All the real host computers are placed in the FET professional cloud equipment room with the services provided by 24-hour professional monitoring and maintenance personnel, secure and guaranteed.
Cost Aspect
By using FET Cloud Computing Service, enterprises don't need to purchase expensive hardware equipment; by paying monthly rent, the computing, storage and the resources of operation system can be acquired. The billing method of paying for usage can effectively reduce the cost enterprise spending on ownership and maintenance.
Service Privilege
FET Cloud Equipment Room Offer 99.99% telecommunication-level equipment facilitye
24 hours network and facility monitoring center and professional maintenance personnel
Reliable international routing and smooth domestic bandwidth environment
Having professional cloud servers and network engineering team that ensure the loading mechanism of cloud service
Secure the information safety by hardware firewall + IPS (Intrusion Prevention System)
Compatible with the high-quality FET enterprise VPN transmission to keep your private cloud and FET public cloud communication safety more secure
Effective flexible expansion and the adjustment of network speed in respond to the development trends
Online self-service function is provided: Through FET cloud computing SSP (Self-Service Portal) platform, you are allowed to self-monitor virtual IT resource at any time.